A PROFESSIONAL
MANUFACTURER
FOR METAL BUTTONS,
METAL RIVETS
AND MORE.
Jingzhi Button Co.,Limited was founded in 2009, which has more than 10 years of working experience in the metal garment accessories industry. Supported by all the clients around the world, now Jingzhi Buttons has grown into a professional and Quality-Guaranteed metal trims supplier,a professional manufacturer for jeans buttons,metal rivets,metal plates and more.
We have more than 1000 square meters of production area, which we can produce most of the metal trims in different materials such as zamak, brass, iron, stainless steel, etc. Also, the production lines cover various types of metal accessories, like jeans buttons, jeans rivets, metal plate, metal eyelets, snap buttons, metal buckles, etc, which you can find most of the metal trims in our factory.
We have different clients from all around the world, which are mainly from Europe, Asia, North America, South America, etc. With the professional services and the stable quality, we had gained more and more clients from different countries.
Most clients like to choose some special colors to match their denim style, so it is better to use the color chart to show the final effect. In that way, it's easier for the designer to confirm the final designs and colors before bulk production.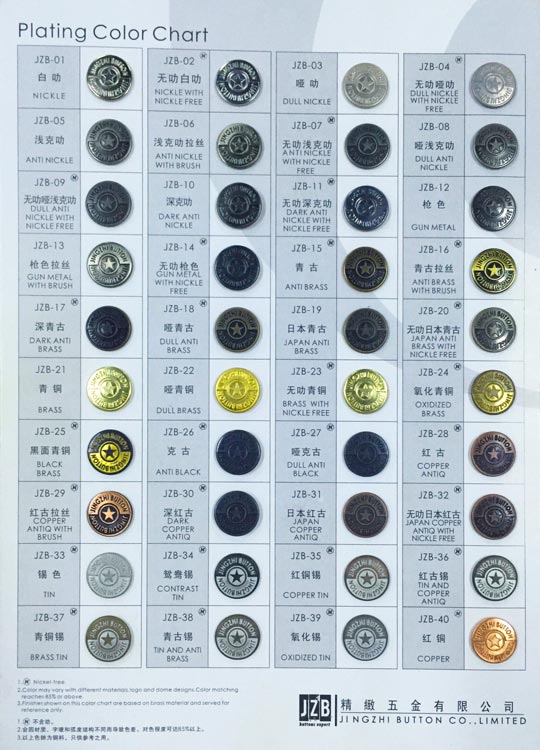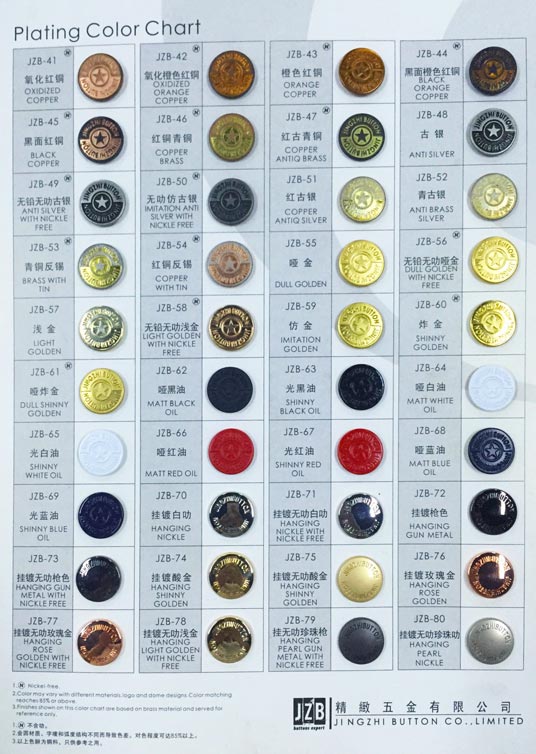 We have different quality standards as per other clients' requirements. Whether you need chemical-free standards, like nickel-free and lead-free standards for the US and EURO market, or need to pass needle test machines standard, or just usual standard for the local market, we can all make the products accordingly and with the perfect commitment.You can also find more details on FAQ page here.
Honest is the best policy!
Meet our team of customer service,we are looking forward to working with you.